Horst Ademeit
Polaroids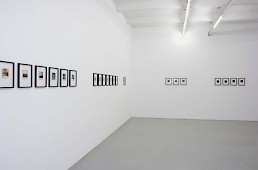 For nearly 20 years Horst Ademeit (1937 - 2010) devoted his chronological diary to document the influence of cold rays on his living environment in Düsseldorf-Flingern. The edges of the Polaroids are furnished by microscopically small handwriting, remarks, observations and theories about what is depicted in those photographs and what is not. The artist placed measuring equipment such as thermometers, Geiger tubes, hygrometers and compasses as well as groceries on daily newspapers and tried to visualise the influence of the rays on himself but also on his surroundings. In this photographs Ademeit captures every condition visually, notes his subjective observations such as smells and noises and links them to the events of world politics he finds in daily newspapers or hears on the radio.

On his photographs he notes the locations of cars and the duration of parking, abandoned bicycles or building sites show the influence of rays as well as the behaviour of spiders in his apartment or his neighbour's turtles in the backyard. The animals' behaviours are being observed and evaluated. The artist himself describes his work as an original form of registration; he is taking photographs of facts in order to protect himself.1

From an art historical perspective Horst Ademeit can be related to Jean Debuffet's interpretation of the term art brut or outsider art, since Ademeit only shortly studied with Joseph Beuys at the Düsseldorf art academy but never finished his artistic education. Ademeit saw his documentary oeuvre that was thought for private use only as a necessity in order to protect himself. Precisely his occupation with the subject, technique and form show an inner necessity and innovation that join him with representatives of "raw art" such as Adolf Wölfli or Morton Bartlett. Thinking of artists such as Roman Opalka and On Kawara at the same time Ademeit's approach to work depicts art historical strategies that can also be found in concept art.

Ademeit's works were shown at Hamburger Bahnhof, Berlin in the series of exhibitions "secret universe" in 2011, at the 30th Biennale in São Paulo in 2012 and at the Kunstmuseum Bonn in the exhibition "Heimsuchung" in 2013.

Horst Ademeit (1937 - 2010) widmete sich fast 20 Jahre lang seinem chronologischen Tagebuch aus Observations- und Tagesfotos um den Einfluss von Kältestrahlen auf sein Wohnumfeld in Düsseldorf - Flingern zu dokumentieren. Die Ränder der Polaroids sind mit mikroskopisch kleiner Handschrift versehen, Bemerkungen, Beobachtungen und Theorien zu dem, was auf den Fotos zu sehen ist - und zu dem, was nicht zu sehen ist. Er platzierte Messgeräte wie Thermometer, Geigerzähler, Feuchtigkeitsmessgeräte und Kompasse sowie Lebensmittel auf Tageszeitungen und versuchte so die Strahleneinwirkung auf ihn und das was ihn umgibt sichtbar zu machen. In den Fotos hält Ademeit jeden Zustand visuell fest, notiert seine subjektiven Wahrnehmungen wie Gerüche oder Geräusche und verknüpft diese mit den Ereignissen aus dem Weltgeschehen, welche er in den Zeitungen findet oder dem Radio entnimmt.

Er notiert auf den Fotografien die Standorte von Autos und die Dauer wie lange sie dort schon parken, stehen gelassene Fahrräder oder Baustellen zeigen für ihn genauso den Einfluss der Strahlen wie das Verhalten von Spinnen in seiner Wohnung oder der Schildkröten des Nachbarn im Innenhof. Ihr Verhalten wird von Ademeit beobachtet und ausgewertet. Er selbst beschreibt dies als ein ursprüngliches Registrieren, Fotografieren von Tatsachen zum eigenen Schutz.1

Kunsthistorisch lässt sich Horst Ademeit dem von Jean Debuffet geprägten Begriff der Art Brut oder der Outsider Kunst zuordnen, da er nur kurze Zeit bei Joseph Beuys an der Düsseldorfer Kunstakademie immatrikuliert war, aber keine abgeschlossene Ausbildung als Künstler absolvierte und sein dokumentarisches Werk als eine Dringlichkeit zum Selbstschutzes und für den Privatgebrauch gedacht war. Gerade seine Beschäftigung in Sujet, Technik und Form zeigt eine innere Notwendigkeit und Innovation, welche ihn klar bei den Vertretern der "rohen Kunst" wie Adolf Wölfli oder Morton Bartlett einreihen lässt. Gleichzeitig finden sich in seiner Arbeitsweise aber auch kunsthistorische Strategien der Konzeptkunst, die ihn bei Künstlern wie Roman Opalka und On Kawara verorten.

Sein Werk wurde u. a. 2011 im Hamburger Bahnhof, Berlin in der Ausstellungsreihe "secret universe", 2012 auf der 30. Biennale in São Paulo und 2013 in der Ausstellung "Heimsuchung" im Kunstmuseum, Bonn gezeigt.